Fire Station Doetinchem design by Bekkering Adams Architecte
Rotterdam-based architectural practice, Bekkering Adams Architecte, has designed the Fire Station Doetinchem project. Completed in 2014, the modern building is located in Doetinchem, Netherlands.
According to the architects: "The new fire station is located on the Europaweg, a major thoroughfare in Doetinchem. The building is embedded in a green zone and flanked by a row of majestic trees. In this context a green oasis is created for the fire brigade. Integrated in the landscape, the roofs of the garage and exercising facilities of the fire station are covered by green hills, thus enveloping the building in a lush green setting.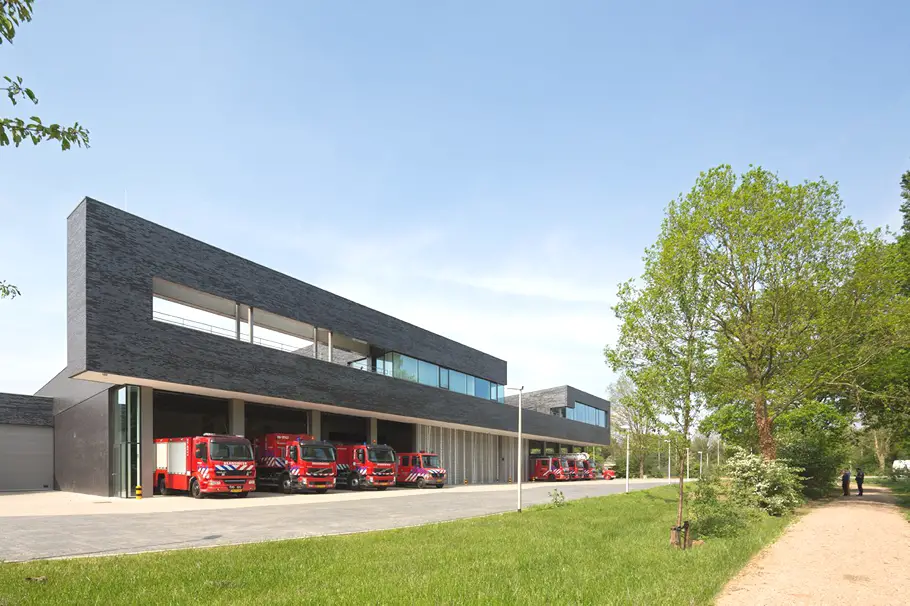 "The building has an efficient organisation. The programme is an accumulation of many different functions under one roof: depot, workshops, dressing rooms, offices instructional spaces, bedrooms and living areas. Through a strategic stacking of functions the different user groups are separated from each other, while still within short walking distance from each other. On the ground floor the depot, workshops, 'dirty' instructional space, and changing rooms are situated. On the first floor the sleeping quarters, storage and technical rooms are organized. On the second floor are the office spaces, instructional space, exercise space, meeting rooms and the canteen and bar as well as the living quarters of the volunteers. Certain areas such as bar and the instructional space can be connected if required.
"A spatial development with various vistas makes the organisation clear and transparent, allowing visitors a glimpse of the dynamic environment of the fire station. Roof gardens, patio's and terraces provide the building of it's specific sculptural expression, creating outdoor spaces with their own specific identity: one linked to the canteen and bar, one linked to the living room of the volunteers, one linked to the office spaces. Huge cantilevers form a sheltered area for the fire trucks, anchoring the building in its surroundings."
Images courtesy of Ossip van Duivenbode
Love Interior Design & Exotic Travel? Follow us..
August 1, 2014 | Property | View comments