Cove 6 Residence perched on an exposed cliff with spectacular views, South Africa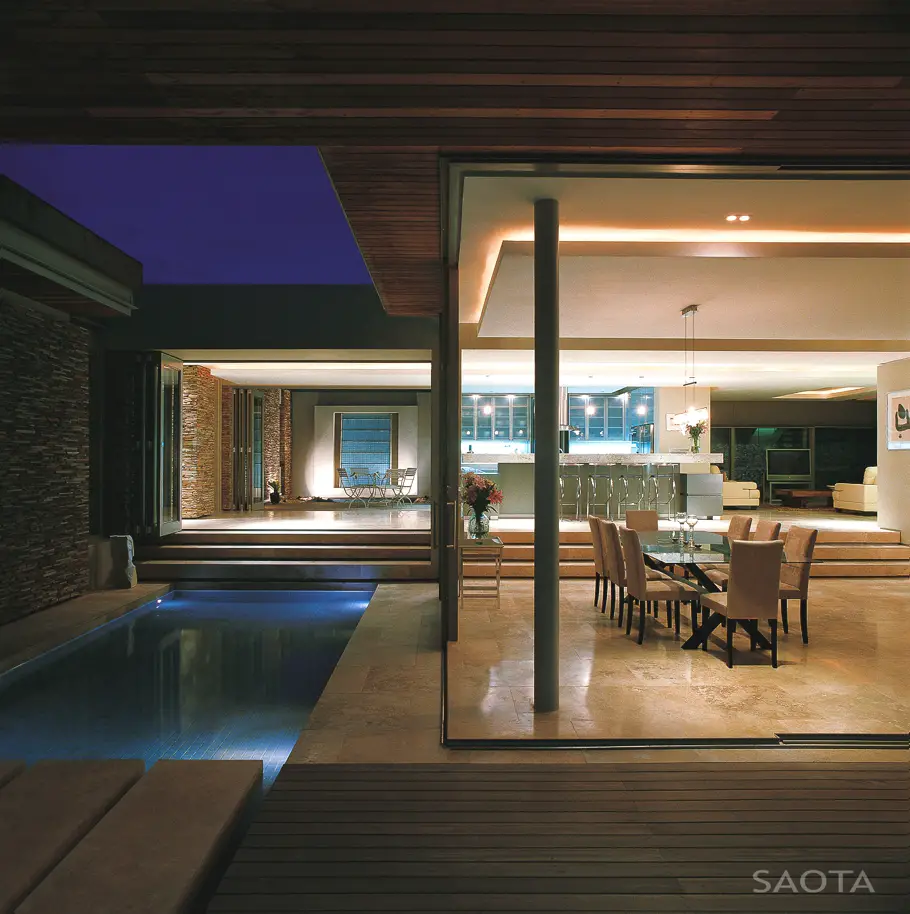 This property known as the Cove 6 Residence is another architectural gem designed by SAOTA, a Cape Town-based design studio. Completed in 2006, the site forms part of The Cove, a private estate in Knysna, and is perched on an exposed cliff with spectacular views.
The owners stated in their brief that they wanted a house with seamless indoor-outdoor living for summer holiday retreats. The luxury South African home takes full advantage of its surrounds landscape and  spectacular views.
At Adelto we love chic and contemporary interior design. The Cove 6 residence is bright, airy and modern. We love how the indoors and outdoors seamlessly become one.
According to the architects: "Great care has been taken to promote the natural attributes of the site with the use of materials to complement the natural colour palette and textures of the site. Thus, the design has a cohesive architectural character being airy, yet firmly anchored into the landscape by means of heavy stone clad walls. The building fits comfortably into the natural contours of the orientation of the site. Cantilevered structures such as the pool and elevated timber decks where allowed to protrude beyond the building lines and demarcated destructive zone to allow indigenous planting to grow below.
"The location of the site invited large glazed areas and extensive use of outdoor spaces, with each aspect of the house having a private terrace or deck. The open plan linear composition of the interior spaces allows views from every room. To take advantage of the sea and surrounding golf course views and to provide protection from the extreme Cape Coastal climate, the living spaces were designed with south west/north east orientations. The orientation gives the owners the option of sheltered courtyards on the leeward side in poor weather conditions or the use of extensive terraces on the windward side on sunny and wind free days. The key to this luxury South African property is its simplicity in terms of the relationship between spaces. Its floor plan is structured, sparse and uncluttered."
Images courtesy of the architects
Love Interior Design & Exotic Travel? Follow us..
March 4, 2013 | Property | View comments