Contemporary Block House that appears to defiy gravity, Mexico City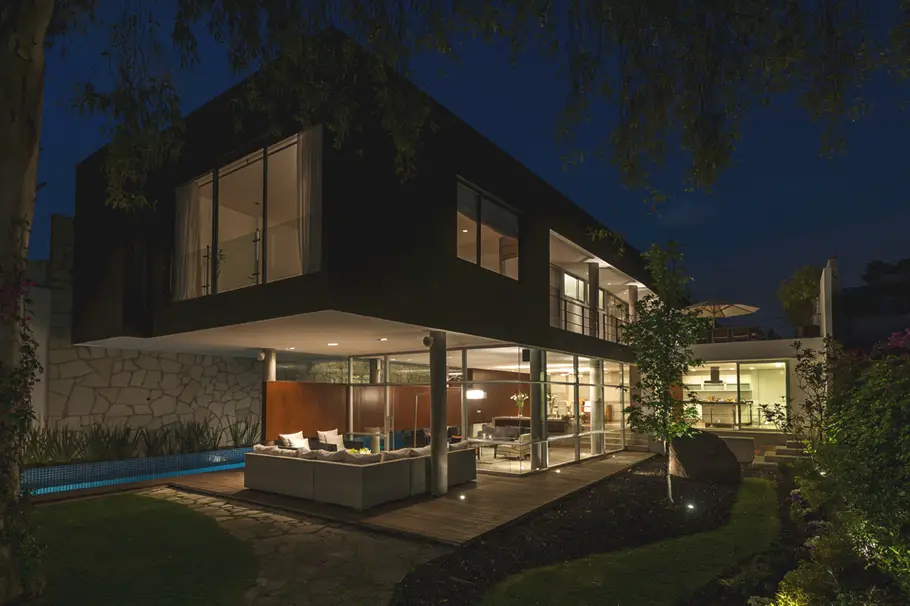 Mexico City-based interior designers and architects A-001 Taller de Arquitectura have completed the Block House project. Completed in 20122, the residential project is located in Mexico City, Mexico.
For too long we've accepted the force of gravity as an imperative. The weight of an apple doesn´t have to tie the architecture to the floor; that which makes us humans consists on transcending what seems natural.
The contemporary Mexican property materialises the freedom that creativity gives to man. The property amazes you with the formal use of two rectangular prisms, one built in exposed concrete on which the other is held, creating a perfect balance. A black box that floats over the garden, barely supported by a few steel columns.
"The interiors are opened to the exterior, appropriating the air and the site, it´s volume embraces every cubic inch of space. We wish we could continue our walk through the living room over the emptiness and into the garden, the exterior fuses with the interior really well.
"A slight lag of the superior volume gives place to the master piece of the project, a pond or a swimming lane, depending on the occasion.  Visible from almost every room in the contemporary Mexican house, it serves as a core from which all the other spaces emerge.
"Inside, we walk in wide spaces; subtle transitions lead us from one environment to the next. Three floor plans connected by a stairwell that serves as a spine; an underground floor plan for all the services and a gym, the middle floor plan for the public spaces and a top volume where the private areas can be found.
"Materials used come in neutral colours ranging from grey to beige, give life to the carefully selected furnishings. Colours appear suddenly as the brushstrokes in a painting, as decorative and ornamental elements.
"Block House, a defiance of gravity, as a metaphor of the human challenge of flying …"
Images courtesy of Jaime Navarro.
Love Interior Design & Exotic Travel? Follow us..
November 28, 2012 | Property | View comments