Citadines Apart'hotel inspired by Hamburg's industrial heritage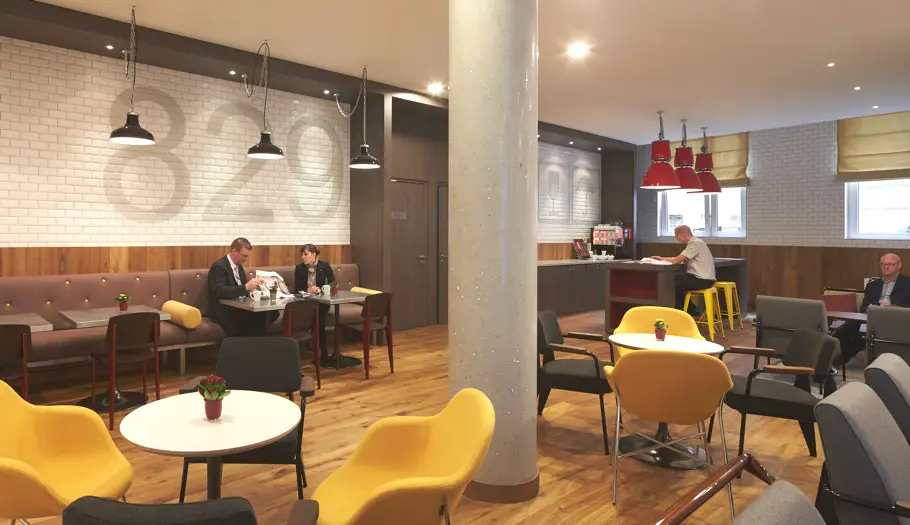 London-based award-winning architecture practice BuckleyGrayYeoman has completed the 127-key Citadines Michel Hamburg apart'hotel in Germany.
Inspired by Hamburg's rich industrial and shipping heritage, the design translates historic and urban elements into contemporary interiors featuring strong materiality and a rich textural palette that adds a quirky yet sophisticated character to the spaces.
The new luxury hotel is situated in a prime location close to Hamburg's city centre and boasts close proximity to one of the city's most iconic landmarks, the St. Michaelis Church. BuckleyGrayYeoman drew inspiration from the hotel's surroundings to create a suite of interiors of eclectic character that reflect the rich history and distinctive identity of the city.
Designs for the serviced apartments offer the comforts of home, while providing guests with the high levels of service and convenience of a boutique hotel. The accommodation was designed to appeal to the city's business and leisure travellers who seek more intimacy and comfort than that provided by a conventional hotel room.
Citadines Michel Hamburg comprises 122 studios and one-bedroom apartments, and five regular hotel rooms. The apartments offer a fully-equipped kitchen, en-suite bathroom and separate living and work areas, creating a comfortable environment that is suitable for work as well as entertainment and relaxation.
Communal spaces for guests to relax, work and socialise, including a breakfast lounge, fitness room, business corner and a meeting room, are located on the ground floor alongside a welcoming 24-hour reception area. The ground floor level's fresh and distinctive interior design contains strong references related to the city's history and locality. Bold graphics referencing the plot number of the site, shipping label motifs and warehouse signage enliven the timber and tile surfaces throughout the common areas – a playful reminder of the city's naval and sea trading heritage.
The design practice has taken particular care to select contemporary furniture with a strong Modernist feel in a mix of bold and vivid colours to complement the dynamic atmosphere of the communal areas as well as the private rooms of the hotel.
Paul White, director at BuckleyGrayYeoman, said: "Situated in Hamburg's busy and vibrant centre, we wanted to create stimulating and comfortable spaces that evoke sophistication with a contemporary feel. By integrating historic and urban elements of the city into the design, Citadines Michel Hamburg responds to the city's unique past and creates a sense of locality."
Citadines Michel Hamburg, Ludwig-Erhard-Straße 7, 20459, Hamburg, Germany, citadines.com/en/germany/hamburg/michel
Love Interior Design & Exotic Travel? Follow us..
November 12, 2014 | Europe Germany Hamburg Travel | View comments