Chic Yakiniku Master Japanese Restaurant, Shanghai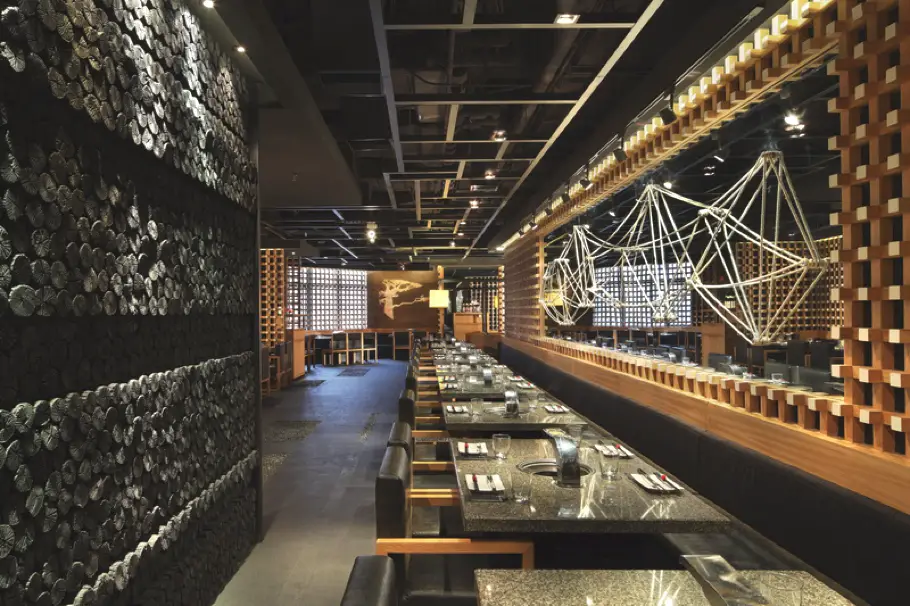 Beijing-based Golucci International Design have completed the interior of the Yakiniku Master Japanese Restaurant in Shanghai, China.
The contemporary Japanese restaurant on Shanghai Tianyaoqiao road was founded in 2007. The restaurant is the third branch of the Yakiniku Master in Shanghai and can seat up to 130 diners.
According to the designers: "Brand owners aspire to Japanese Zen transplantation with the concept of south China's country style to Shanghai, so that guests enjoy the meal in a comfortable and elegant space while at the same time they absorb the atmosphere and culture"
"Head designer Lee Hsuheng use of modern techniques to interpretation of the basic frame structure of traditional Japanese architecture, a large number of simple wooden framework of the performance aesthetics of building structures, the other showing the curve of the south of Chinese building roof with ink, the curve from the roof tiles in accordance with the beam the rack layer heightening, thereby emphasising the beauty of this curve in the Chinese architecture construction almost incredible simple and natural." Images courtesy of Sun Xiangyu.
Love Interior Design & Exotic Travel? Follow us..
May 13, 2012 | Design | View comments