Bocci for Mallett at London Design Festival
For the last 150 years Mallett has been sourcing 18th and 19th-century English furniture for collectors, royalty and museums across the world. But this year at London Design Festival, the great antiques dealer unveiled another triumph, in the form of a monumental chandelier, which is hung in the original stairwell of its headquarters – Ely House – a London palace built in 1722 for the Bishop of Ely.
With the new millennium, Mallett started building close relationships with contemporary designers, extending its field of expertise to the latest trends of furniture design. The firm has now begun commissioning internationally renowned designers such as Barber Osgerby, Matali Crasset and Tord Boontje. These new pieces formed the Meta collection and were exclusively made to order by the finest master craftsmen across Europe and America.
The antique dealers recent collaboration was the chandelier, a joint installation with Bocci, the Vancouver-based design company, showcasing their "bespoke 57" design. These glass lights explore the process of trapping voids of air in molten glass coated in metal to create dramatic depth when light.
The wow-factor and dramatic chandelier is on display in the stairwell of Ely House and will remain there until the end of the year.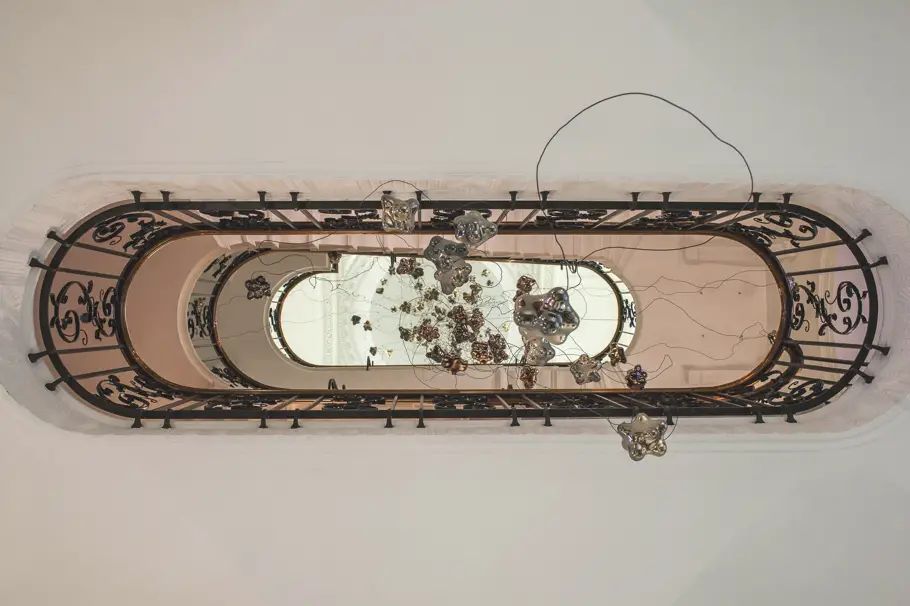 "Mallett and Bocci share a passion for beautifully crafted pieces, should they be of the 18th-century or the 21st," said Meta production manager Eléonore Halluitte Andrews to the Financial Times. "With this installation, Mallett challenges design aficionados and antiques collectors to see beyond the age gap and embrace the richness the pieces share."
"Bespoke 57" Chandelier by Bocci for Mallett can be seen at Mallett until the end of 2014, Ely House, 37 Dover Street, London W1, England, mallettantiques.com
Images courtesy of Mallett
Love Interior Design & Exotic Travel? Follow us..
September 23, 2014 | Design | View comments