Beautiful Brazilian Home by Faleiro Guerra Arquitetura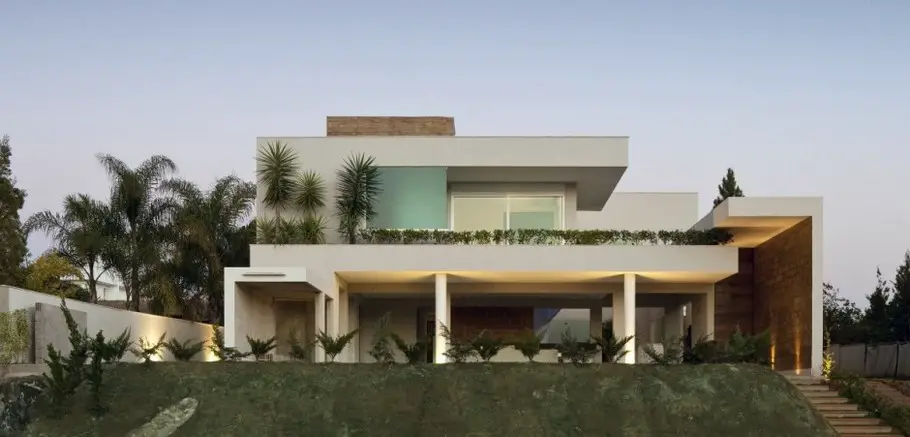 The Alphaville House in Brazil has been completed by Faleiro Guerra Arquitetura, a charming, sophisticated home which combines a natural touch with traditional and modern modes.
Exuding a peaceful, calming feel, this Brazilian home takes full advantage of the beautiful South American surroundings. Draped in natural beauty with palm trees and a vast green garden, this natural touch really advances this houses aesthetic appeal. The use of bright white colours for the houses exterior combines beautifully with this nature, and sets this house apart from the rest as a sign of modern architecture amongst the highest echelon. The exposed brick also increases the traditional mode used in this home; a comforting aspect.
Inside, the open-plan design furthers the attraction of this home, as the spaciousness provides numerous possibilities, including leisure and family time. The deluge of bright white colours is also relaxing and appealing, and allows the natural light bounce through, invigorating the home.
The architects have succeeded in maintaining the beautiful natural touch throughout the interior of the house as well, and furthering the traditional aspect with exposed wooden tables really is a striking combination. The traditional Brazilian favelas are also respected in this home, but, with a modern touch, the architects really enhance the natural beauty of luxurious living.
Love Interior Design & Exotic Travel? Follow us..
December 22, 2011 | Property | View comments