Floating staricase design by Bisca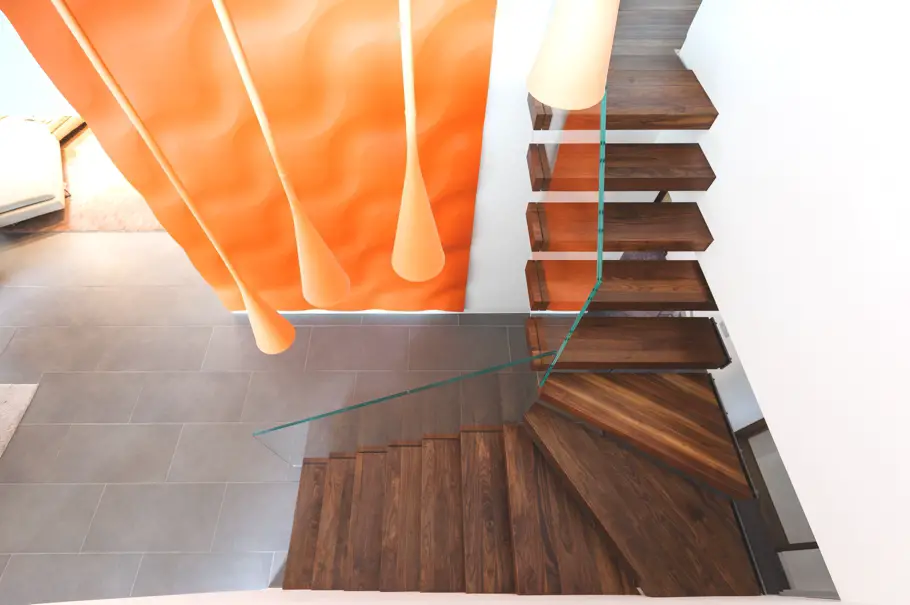 In the past domestic staircases were built within the confines of a hall or entrance lobby and even grand staircases within stately homes were situated in areas where people tended not to linger due to the challenges of heating these magnificent residences.
Today however, the staircase is no longer out of sight-out of mind, as the trend towards open plan living has promoted its importance. Being visible from key areas of the property a feature staircase adds desirability and wow factor as well as being functional.
Richard Mclane, design director of staircase specialists BISCA, said: "Space is increasingly at a premium in homes, and staircase designers often have to maximize the illusion of light or openness, incorporate storage areas or work cleverly around room entrance and exits whilst executing a staircase design brief.  The ability to tailor exact shape or choose specific materials is becoming more important to the overall success of a project as the staircase must be integrated sympathetically into the property and not look like an obvious add on."
The brief was to create a floating feature staircase for the modern extension of a bungalow. The staircase allows as much light as possible into the space and contain elements of walnut and glass.
"Our solution was to install a structural glass wall which supports the mid section of the staircase, keeping the space as open as possible and allowing light to flood into the corridor beyond. Concealed steel structures support the lower and upper stair sections to achieve a staircase that truly floats.
Luxurious walnut treads provide a warm contrast to the crisp white walls and low iron glass balustrades. Cosmetic walnut tread ends conceal the balustrade connections creating the illusion of the treads actually passing through the glass.
Love Interior Design & Exotic Travel? Follow us..
July 17, 2013 | Furniture | View comments