10 staircase design ideas for a contemporary home
Today's modern staircases offer all sorts of beautiful designs, style, colours and materials. Richard McLane, design director of bespoke staircase company Bisca, explains the importance of the staircase in contemporary interiors.
Once upon a time, unless you lived in a castle, a staircase was a simple thing, built of wood and standing against the wall. Today, it can be a central design feature able to transform an interior with one dramatic statement. Curved, cantilevered, spiral or suspended, in steel, glass, timber, copper or aluminium – infinite possibilities have been opened up by clever design and engineering which can turn the staircase into the most important focal point of the house.
Staircases are fast becoming a priority for architects and developers, seeing the potential to add that 'wow factor' to a house, be it a new design or a renovation project. Homeowners have historically spent a fortune on their kitchens and bathrooms, rooms that are often out of view and only have a lifespan of around ten years. Staircases are another matter altogether. This is an area of design that has been neglected in the last fifty years but is now gaining importance.
Changing a staircase is not something one should embark on lightly. However, if it blocks out light, is not well integrated into the house or if it is in a rickety condition, it might be time to look at an alternative. A natural time to think about a new staircase is when other renovation work is already taking place. As aesthetic and structural implications need careful consideration, each staircase has to be planned individually. Every interior should be treated as a unique space – a sleek, stainless steel staircase works well in loft spaces and buildings with a high-tech, contemporary style whereas a very grand home with an impressive entrance hall requires something more majestic.
A well-integrated product also has to take trends into consideration. The trend for light and spacious, open-plan interiors has in turn created a trend in staircases – the use of glass. With the light, ethereal aesthetic of glass designers are able to create staircases which appear to float, to a stunning effect. The translucent nature of glass maximises the use of light and space and creates an 'airy' feel. A frosted, opaque effect, achieved through sandblasting, can be a good way to increase safety as it gives more friction underfoot.
Stainless steel is another very popular material for contemporary staircases, remarkably useful both for its strengths and its looks. Although it is often associated with very bare, minimalist architecture, it can in fact take on a range of different looks – the trick is not to over-use it and to experiment with different finishes; bright, matt, brushed etc. It is great combined with glass and also sits well with all sorts of timber and even with leather. With so many options and styles to choose from, the next time you walk up your own stairs, think of its amazing potential!
Here are Adelto's 10 favourite contemporary staircase designs by Bisca:
1. All the glamour of a twenties luxury liner—this outstanding feature staircase has treads in Corian®—possibly the first time this material has ever been used in this way.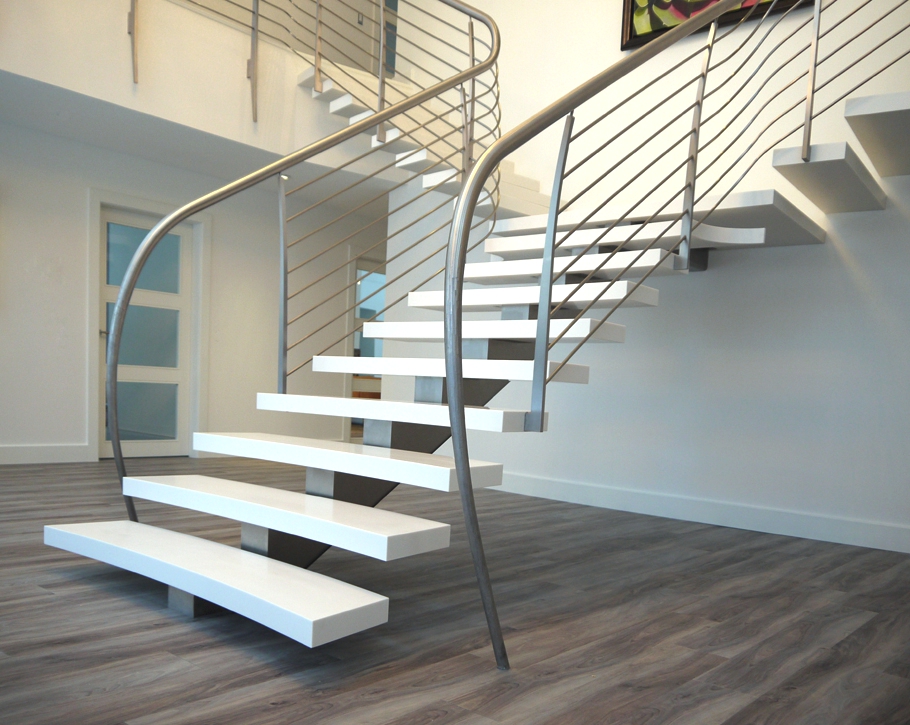 2. Social Climbing: A contemporary staircase with timber treads, glass balustrades and leather handrail designed to make the most of the light and space.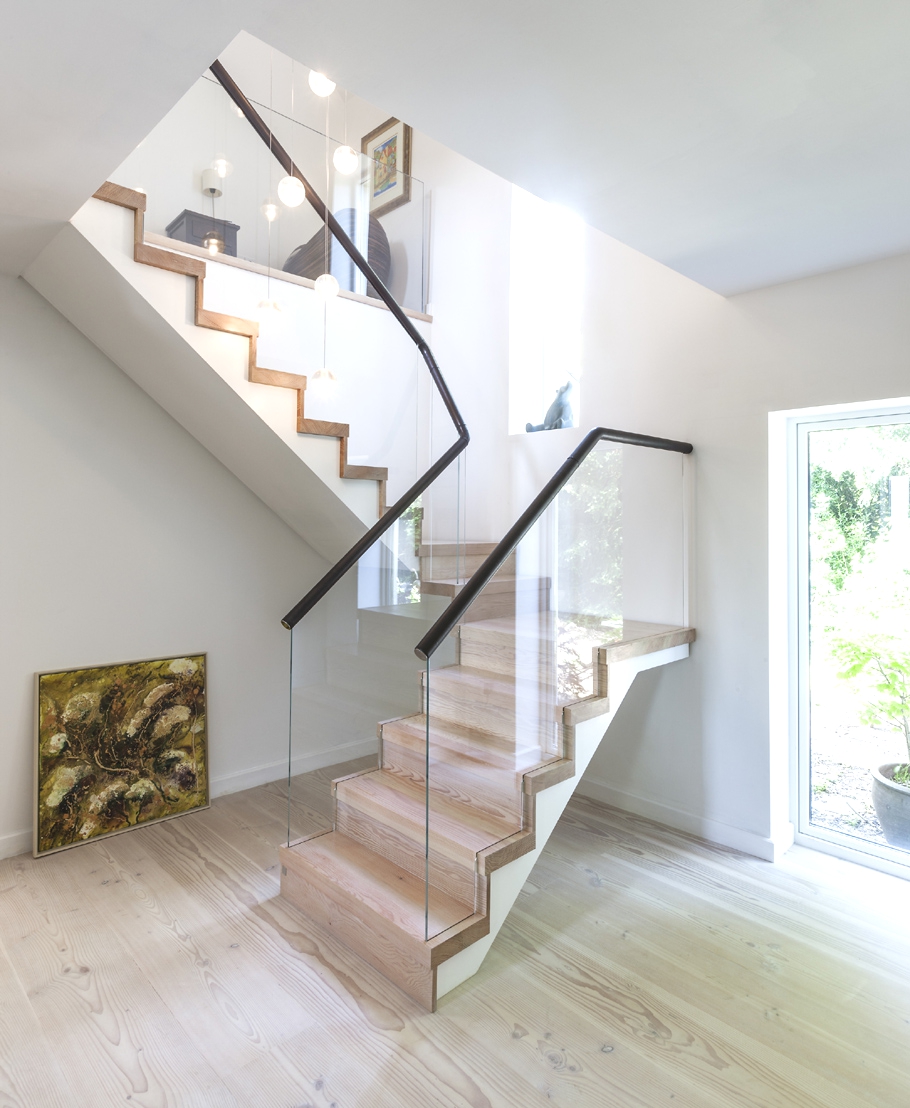 3. Contemporary and Timeless Staircase: This feature staircase rises from basement through to first floor. The balustrade has leather clad handrails mounted on low iron glass panels and continues round all open stairs and landing edges.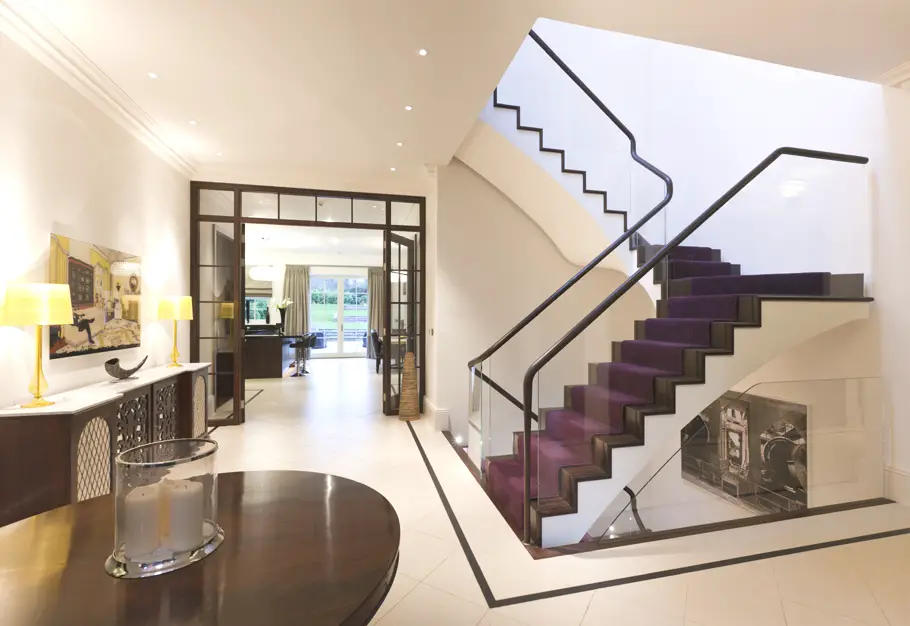 4. A two-storey grand glass staircase with crisp, contemporary detailing.
5. A Clean Sweep: This staircase is supported by a hidden structure cleverly detailed into the wall. Continuous treads and risers of European Oak and a glass balustrade all add up to give a crisp, clean finish.
6. Architectural Theatre: A helical staircase with oak treads fixed between stainless steel stringers with curved toughed glass balustrade and timber handrails wrapped in sumptuous dark brown leather.
7. Pure Hollywood: This sweeping staircase contributes towards a wonderfully dramatic entrance. Cast concrete stairs incorporate a glass balustrade with timber handrail.
8. This lower ground floor staircase is clad in stone and offset beautifully against the simple white plastered parapet wall. Features include a dark brown leather hand-stitched handrail and LED lighting.
9. Cantileverd dark walnut treads are compliemnted by a simple white painted plastered balistrade capped with dark Havana-stiched handrail.
10. Traditional meets contemporary: Cantilevered staircase with Green Oak treads to link with the organic nature of this barn conversion. A hand-stitched leather clad handrail adds a contemporary tactile feel.
What's your view on our top 10 staircase design ideas?  Reply in the comments area below or join the conversation on Twitter: we're @Adelto
Love Interior Design & Exotic Travel? Follow us..
November 5, 2012 | Furniture | View comments